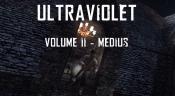 The second of a series of three retrospective frag films, Medius includes content from the most popular era of ET (2005-2009). Unlike the previous volume, Principium, this film contains a lot of in-eye footage and is a much more lively viewing experience, while still maintaining the tone of the series.
The film contains scenes from over 35 Enemy Territory players from all around the world. Some of the footage has been seen before, but much of it will be presented in a frag film for the first time and hopefully in a way that viewers have not really seen before in Enemy Territory.
Initially I had intended for all three movies to be short, however, due to all of the content I wanted to use and a lot of ideas that I had, this volume is over ten minutes in length.
Data

Details
Movie
Typ
mkv
Size
1.01 GB
Downloads
181
Author
-mAx-
Created
03.06.2015