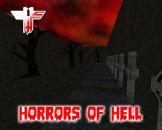 Return to Castle Wolfenstein - Single-player Mission Horrors of Hell
Storyline
The SS Paranormal Division has a lab inside what seems to be a normal military facility. Under the lab is a crypt, where the SS Paranormal Division is taking valuable treasure and artifacts. Since the Paranormal Division is involved, Allied forces are worried that they may have something sinister planned.
You must infiltrate the facility, but be very careful, the Germans won't let you into their facility without a fight. One of your comrades, Sgt. Pavel, will escort you to the facility. You will be on your own from there.
Can you survive all the hellish horrors that Return to Castle Wolfenstein will put your way? Ronboy's superb new RtCW SP mission will test you to your limits, as you frag against all the Horrors of Hell.
Data

Details
Mappack
Typ
pk3
Size
89,45 MB
Downloads
1145
Author
Ronboy
Website
Homepage
Created
08.03.2015