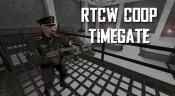 RtCW Cooperative - Timegate
Description: you can play with the autosaves or with the flag zones (recomendet). All trap-doors are removed, all moving platforms are returns and they moving looping. Cable-car and lifts have delay time to start, it's give some time to connects players with different ping and not to spawn in air :) Cutscenes are rebuilding and now playable. Adding new small area, new secret places, models, music, etc. Locomotive have longer paths for more funs. Hope you enjoy and have gladness. Ñheers!
Instalation: put coop_TimeGate.pk3 in this place "C:UsersYourComputerNameDocumentsRTCWCoopcoopmain"
Data

Details
SP-Map
Typ
pk3
Size
205 MB
Downloads
431
Author
Priv, Pbald
Created
15.07.2018