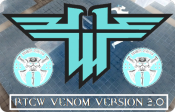 Return to Castle Wolfenstein Singleplayer Venom Mod

The goal of this little modification is increase the general feeling of the game with a more aggressive and modern IA of enemies and the best graphic possible for the original game, with HD texture for some weapons and enemies.
Mod 2.0 include:
widescreen patch 1.42 by Knightmare.
better skins for 90% NPCs.
new skins for all weapons, by OSJC and AidenDemon.
Improved shader effects for weapons, Npcs and environment.
new mg42 model (ported from Wolfenstein: ET).
Revisited and correct AI system.
HD crosshairs and icons.
upscaled original textures and HD textures from Eugeny pack 0.4 modified.
Installation:
Copy all the content of the package like it's on your RTCW installation folder. The cfg. file is facoltative, but increase the graphic quality to max possible for the engine. (is necessary the game patched to 1.41 to apply the wide patch and extreme quality cfg file!!)