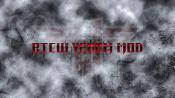 RtCW Venom Mod - Version 4.8.5
Released Venom mod 4.8.5, includes:
- New HQ console.
- General revision and some improved textures.
- Green visor for Snooper rifle.
- Fixed glasses and water surfaces.
- Added unused textures from beta RTCW.
Based on Knghtmare patch 1.42d, includes:
# Fixed the AI in the maps, Escape 1-2, Crypt 2 and Forest levels!
# Better glass surfaces and reworked shaders.
# Reflective decals.
# Better textures for grenades,Tesla and MP40.
# New effects for Warrior zombies.
# New texture for the Snooper rifle created by Schiff, now with reflections.
# Less hard drive space required than previous versions 4.6.
# Added "autoexec" files for classic/tweaked advanced settings.
Installation:
Copy all the content of the package like it's on your RTCW installation folder. The cfg. file is facoltative, but increase the graphic quality to max possible for the engine. (is necessary the game patched to 1.41 to apply the wide patch and extreme quality cfg file!!)
Data

Details
Mod
Typ
dll
Size
588.97 MB
Downloads
518
Author
HEllBaron89
Website
Homepage
Created
25.09.2016