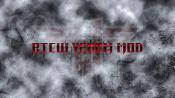 RtCW Venom Mod - Version 5.0
Further textures and models from Wolfenstein: ET. All shaders, reworked textures, HD crosshairs, fonts and edited AI by HellBaron89.
Venom mod 5.0, includes:
# Compatible with the "Knightmare" patch and "ioRTCW 1.5a" (see readme).
# Revisited all model skins and weapons pack.
# Definitive HQ console for MP/SP mode.
# All glass has now been enviromapped.
# New shaders and many other fixes.
# New HD textures for MP/SP mode.
Installation:
Copy all the content of the package like it's on your RTCW installation folder. The cfg. file is facoltative, but increase the graphic quality to max possible for the engine. (is necessary the game patched to 1.41 to apply the wide patch and extreme quality cfg file!!)