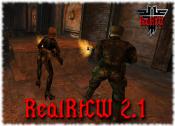 RealRtCW 2.1. with 3 RtCW SP-addons on board too. This new version of the mod is now running on the remarkable ioRTCW engine with included widescreen support, sound improvements, bug/crash fixes, and much more.
RealRtCW players who are using "vsync" can now utilise this hotfix, created by MAN-AT-ARMS.
The 3 Return to Castle Wolfenstein SP missions available for now are:
# RealRtCW Capuzzo
# RealRtCW Timegate
# RealRtCW Stalingrad
The main changes are:
ioRTCW engine (widescreen support, better sounds etc.)
New weapons. New models for the old weapons
Total sound overhaul
Custom maps support
Balance changes and more! Check out the "readme" file for the full changelog
Installation instructions:
1) Choose either the x64 or x86 executables folder (depending on which version of RealRtCW you're using. 32bit = x86, 64bit = x64)
2) Copy everything from your chosen folder and place this into your RtCW root folder, replacing the old files.
Data

Details
Mod
Typ
exe
Size
1,06 GB
Downloads
930
Author
WolfETPlayer
Website
Homepage
Created
10.06.2017