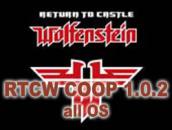 Return to Castle Wolfenstein Cooperative 1.0.2
There are versions available for "Windows", "Linux" and "Mac".
It's time, once again, for you and your "RtCW" buddies to return to Castle Wolfenstein, but this time you're not alone, you can fight against all your deadly enemies side by side. Several custom "RtCW" missions are available now too.
How to install:
Unzip the downloaded file into your rtcw installation. Make sure that the 'coopmain' folder from the zip file is at the same level as the 'main' folder from your rtcw installation.
In case you only have the rtcw pk3′s but no existing installation, unzip the downloaded file and move your rtcw pk3′s inside the 'main' folder.
Data

Details
Mod
Typ
so
Size
135.27 MB
Downloads
301
Author
MAN-AT-ARMS
Website
Homepage
Created
10.09.2017