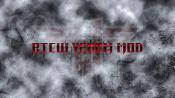 RtCW Venom Mod - Version 5.4 (only Nvidia)

Further textures and models from Wolfenstein: ET. All shaders, reworked textures, HD crosshairs, fonts and edited AI by HellBaron89.
Released Venom mod 5.4, includes:
Full compatibility with Rtcw 1.41, Knightmare and ioRTCW engines.
More optimizations, better effects on weapons.
Revisited AI and cutscenes of levels.
Lens effect on 3d binocular model.
Added 3rd person model fg42 from Wolfenstein ET.
Ported pre-release thompson gun model (from E3 2001).
Better textures for helmets.
Added specular for blood decals.
New HD textures for MP/SP mode.
New effects for flamethrower, candles, fire and torches ( and human torches..).
Installation:
Copy all the content of the package like it's on your RTCW installation folder. The cfg. file is facoltative, but increase the graphic quality to max possible for the engine. (is necessary the game patched to 1.41 to apply the wide patch and extreme quality cfg file!!)
Data

Details
Mod
Typ
dll
Size
554.84 MB
Downloads
274
Author
HEllBaron89
Website
Homepage
Created
05.02.2018