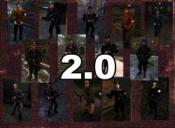 A Skin Pack mod that updates B.J. Blazkowicz and General "Deathshead" Strasse to younger versions of how they appear in "Wolfenstein: The New Order" as well as some new versions of the more historically accurate uniforms from my "Return To Return To Castle Wolfenstein" mod.
Mission 1: Ominous Rumors (Escape!, Castle Keep, Tram Ride)
Nazis changed to early '30s hybrid stormtroopers (inspired by brown Wolfenstein 3D guards) and Allgemeine SS under the command of
party group leaders. Village-based soldiers wear the more practical Waffen SS fatigues, and SS officer uniforms denote Ahnenerbe membership. Hans has been promoted from implausibly overweight SS soldier to local Gauleiter.
Mission 2: Dark Secret (Catacombs, Crypt, The Defiled Church, Tomb)
Carries over a weathered version of Soldiers' fatigues from previous level. Other soldiers' gear and Helga's blouse denotes Ahnenerbe membership. Zemph wears a more ominous leather coat.
Mission 3: Weapons of Vengeance (Forest Compound, Rocket Base, Radar Installation, Air Base Assault) Soldiers and officers patrolling the forest installation belong exclusively to regular army. Afrika Korps guard the rocket facility itself (for variety's sake -- maybe they've been assigned to guarding the biological compounds found in north Africa?). The Radar installation now under the control of the Reich Security Main Office so expect to see RSHA staff and Gestapo officers under the command of SS Oberfuhrers. Officers and soldiers of the Luftwaffe police (inspired by blue Wolfenstein 3D SS) now keep watch over the air base.
Mission 4: Deadly Designs (Kugelstadt, The Bombed Factory, The Trainyards, Secret Weapons Facility) The regular army patrols Kugelstadt backed up by SS paratroopers wearing Fallschirmjager camo. The submarine base is guarded by Kriegsmarine soldiers. Deathshead has a new coat.
Mission 5: Deathshead's Playground (Ice Station Norway, X-labs, Super Soldier) The only level to feature foreign SS units with "Den Norske Legion" patrolling inside and outside the Norwegian station. Scientists wear white lab coats.
Mission 6: Return Engagement (Bramburg Dam, Paderborn Village, Chateau Schufstaffel, Unhallowed Ground) Orpo squads and Deathshead's personal squad of SS paratroopers in Fallschirmjager camo block the way through the dam to Paderborn village. Be careful not to attract the attention the dreaded "Leibstandarte SS Adolf Hitler" in your mission to assassinate the Ahnenerbe Gruppenfuhrers, and dont forget to take out a high-value decoy on your way through (twin-gattling guns not supplied).
Mission 7: Operation Resurrection (The Dig, Return to Castle Wolfenstein, Heinrich) Soldiers and officers wear Waffen-SS smocks at dig site. Inside the castle under seige, the Fallschirmjager under Deathshead's command look even worse for wear (oblivious to pain thanks to his experiments). Final cutscene has a more accurate rendering of Himmler, in this case wearing his summer tunic (inspired by white Wolfenstein 3D officers).
Other: As many NPCs as possible have had their faces rendered differently for the sake of variety.
INSTALLATION: Place the PK3 file "rtrtcw" in Return to Castle Wolfenstein's "Main" folder. To uninstall delete PK3 file "rtrtcw".