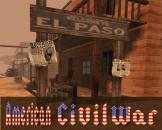 Enemy Territory MOD - American Civil War Version - Final
This is the new and improved total conversion of Wolfenstein Enemy Territory to an American Civil War theme.
The new weapons, animations, models and environments are exceptional, as is the excellent western music incorporated into the gameplay. This isn't just a new game modification, it's a Wolfenstein work of art. To make things even more incredible, all of this is the work of just one man, not a devteam. Download it and enjoy it, folks, you won't be disappointed.
There are now 30 maps to play, in 3 ten-map campaigns. The maplist is as follows:
North American Campaign: # Killdeer Mountain # Fort Abercrombie # Storm Point # Once Upon a Time in the West # Factory #The Wild Wild West # Farm # Hang'Em High
Central American Campaign: # Fort Laramie # Church # Union pacific # Burlington # Home Sweet Home # Hacienda # Warlock # Durango
South American Campaign: # Dodge City # Colorado River # Santa Fe # El Paso # Tombstone # Tijuana, Yuma # Tucson # Mexican # Oasis # The Alamo.
Please note that some of the maps have "night" versions that can be played too.
Data

Details
Mod
Typ
exe
Size
739.23 MB
Downloads
217
Author
BOBOT and PAV
Website
Homepage
Created
10.06.2017