Get ready to deploy, Soldier! We're hugely excited to announce that the Dirty Bomb Closed Alpha has officially begun, and we've started mailing out alpha keys to members of the Dirty Bomb Founder's Club. If you've already joined up, keep checking your inbox. If you're dying to get into the Closed Alpha, visit the Founder's Club website . You'll be directly supporting Dirty Bomb's development, and are able to shape what the game becomes through your feedback.

Dirty Bomb is powered by a great little tool we call Echo, and it's a big part of why we're able to give you access to Dirty Bomb this early in development. Developed by the talented chaps over at Fireteam, Echo basically collects and visualises detailed data from all of Dirty Bomb's multiplayer servers, allowing us to balance and optimise the game in ways we couldn't before.
We're so excited by Echo that we've put together a brand-new video showcasing its role in Dirty Bomb's development. Take a look: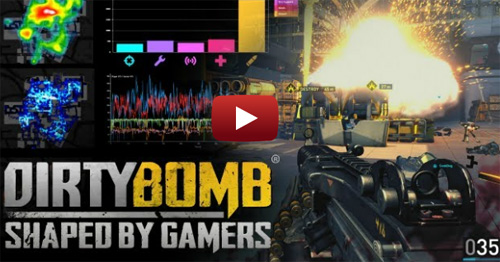 Das Team von Splash Damage hat einen wichtigen Meilenstein bei der Entwicklung des Free2Play-Shooters Dirty Bomb erreicht. Wie aus einer offiziellen Meldung hervorgeht, hat vor kurzem die sogenannte Closed-Alpha begonnen.

Wer an diesem geschlossenen Alpha-Test teilnehmen möchte, muss sich zunächst auf der offiziellen Webseite für den kostenpflichtigen »Founder's Club« anmelden. Allerdings ist der Zugang zur Alpha nur dann mit sofortiger Wirkung garantiert, wenn du dich für die 120 Dollar teure Legendary-Variante entscheidest, die noch weitere Extras (zum Beispiel ein T-Shirt und ein digitales Fan-Kit) mit sich bringt. Die anderen Varianten garantieren zumindest eine bevorzugte Auswahl bei den Teilnehmern.

Wie lange die Closed-Alpha laufen wird, ist bisher allerdings noch nicht bekannt. Unter anderem kommt Dave Johnston zu Wort, der einst die Karte Dust für Counter-Strike designt hat.
Quelle: SplashDamage | Gamestar