I (Adrian) have the honor to invite you to the next event dedicated to finding hidden objects on a map: PUMPKIN HUNT
Guardian of our server Farmer Vladek always dreamed to grow pumpkins. He put it on your server so unfortunately bad luck would have it, that day was awash in a corpse. Now, when it's time to harvest, Farmer Vladek for nothing in the world can not remember where seeds sowed. Help him find all 100 pumpkins that planted!
Farmer Vladek medal will honor the best pickers in the forum and lvl on the server.
Fun will begin October 31 and November 9 we will summarize harvest.
Information about the maps on which Farmer Vladek probably planted pumpkins, will appear on the server on the start date.
Wolfenstein.pl Gameserver: No Name - 193.33.177.19:26010
(translate by google)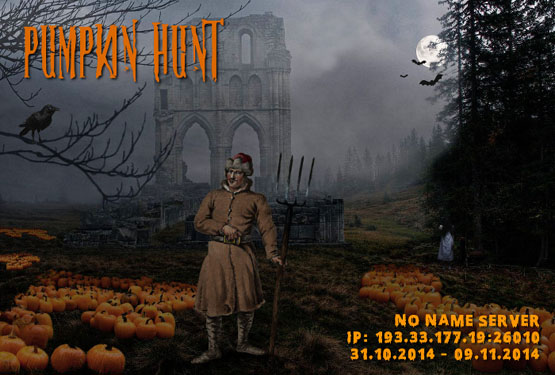 Mam zaszczyt zaprosić wszystkich na kolejny event poświęcony poszukiwaniu ukrytych na mapach przedmiotów: PUMPKIN HUNT
Opiekun naszego serwera Farmer Władek zawsze marzył, żeby hodować dynie. Posadził je więc na swoim serwerze, niestety pech chciał, że tego dnia był zalany w trupa. Teraz, gdy nadszedł czas zbiorów, Farmer Władek za nic w świecie nie może sobie przypomnieć, gdzie porozrzucał nasiona. Pomóżcie mu odnaleźć wszystkie 100 dyń, które zasadził!
Farmer Władek odznaczy najlepszych zbieraczy medalem na forum i lvlem na serwerze.
Zabawa rozpocznie się 31. października, a 9. listopada zrobimy podsumowanie zbiorów.
Informacje o mapach na których Farmer Władek prawdopodobnie zasadził dynie, pojawią się na serwerze w dniu rozpoczęcia.
More infos: wolfenstein.pl/forum
Source: Adrian via FB | wolfenstein.pl