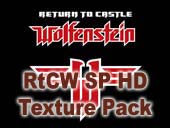 Venom3 has in the solo run, makes a high-density texture package for RtCW single player. The SP HD Pack is not ready completely yet and still has beta status but spare contain over 300 revised and new textures (of 900).
The new textures are considerably better. For real RtCW fans a reason playing the game again.

Simple insert the pack in main folder.

Venom3 hat im Alleingang ein High Definition Textur-Paket erstellt für den RtCW Singlelayer.
Das SP HD-Pack ist noch nicht komplett fertig und hat noch Beta-Status, aber beinhaltet schon über 300 überarbeitete und neue Texturen (von insgesamt 900)
Die neuen Texturen sind deutlich besser. Für echte RtCW Fans ein Grund das Spiel nochmals zu spielen.
Einfach das Pack in den Main-Ordner einfügen.

Quelle: ComputerBase-Forum | Thx to Venom3