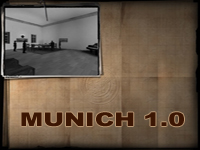 sd 2009 release his Single player map Munich 1.0 for RtCW - The map was created with only one thing in mind, having fun. No historical accuracy was taken into consideration.

sd 2009 veröffentlicht seine Singleplayer Map Munich 1.0 für RtCW - Die Map wurde, aus der Idee heraus, frei kreiert und verfolgt keinen historischen Hintergrund.
1) Put the files sp_muenchen2.pk3 and sp_pak1j.pk3 in your Return to Castle Wolfenstein/main/ directory
2) Start Return to Castle Wolfenstein Single Player
3) Open the console by pressing the ~ key
4) Type /spmap sp_muenchen2 then press the key enter.
Quelle: RtCWfiles