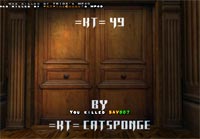 =KT=49 HD Movie - Catsponge
hat von dem taglich spielenden RtCW-Verteranen schöne Momente zusammengefasst. Der HD Film hat eine gute Qualität und spiegelt den Spaß wieder, den den die Spieler auf dem KT-Server immer haben.

Dieses mal spezial...
erstmalig mit RtCW Bloom Lichteffekten, stark modifizierten Map-Texturen, einigen PF-Kills, kuriosen Momentaufnahmen und vielen Pech- und Glücks-Szenen.

=KT=49 HD Movie - Catsponge
has summarized funny scenes of the daily playing RtCW-Veterans. The HD film has a good quality and reflects the fun the people on the KT-Server having always.
This special...
to be first with RtCW bloom lights effects, strongly modified map-textures, few PF-Kills, funky moments and many bad and luck scenes.