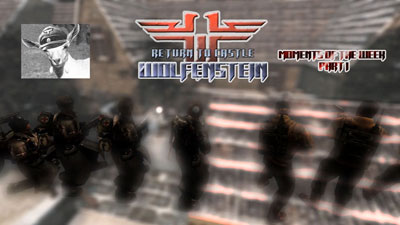 Homie and bully present the first video from the RtCW Fall Cup 2012 with impressive moments. Special Thanks: bully - for helping me with all technical issues to record in rtcw with blur etc & for making the intro banner Feedback is really appreciated. PS: the next video will be made by bully!
Starring: MerlinatoR syL ramzi zerom juncie homie haste ironic crabje osiris bully lelle brandon fro idlaw xPERiA
Homie und bully präsentieren das erste Video aus dem RtCW Fall Cup 2012 mit beeindruckenden Momentaufnahmen.
Special Thanks: bully - für seine Hilfe mit allen technischen Fragen, in RTCW mit Unschärfe etc. und für die Herstellung der Intro-Banner. Feedback wird sehr geschätzt. PS: Das nächste Video wird von bully erstellt!
Quelle: crossfire.nu
RTCW MOMENTS OF THE WEEK #1 - RTCW FALL CUP 2012
Homie + bully 22.11.2012 251.17 MB 145