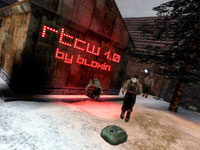 Bloxin presents his new RtCW 1.0 Fragmovie - This video is dedicated to the remaining clean 1.0 players and those who contributed to the community in a positive way over the years.
As 1.0 is now sadly over populated by noskill cheaters in servers which admins let them play openly, this drives the genuine clean players to quit.

Hopefully this video will show and be something to look back on and remember how much fun 1.0 was and a few of the great people who were involved.

Bloxin zeigt sein neues RtCW 1.0 Fragmovie - Dieses Video wird den, über die Jahre, übrig gebliebenen sauberen 1.0 Spielern gewidmet, die zur positiven Gemeinschaft beitrugen.
Die guten Zeiten auf RtCW 1.0 sind traurigerweise vorbei, weil viele Admins die Noskill-Cheater auf den Servern einfach unkontrolliert (weiter) spielen lassen. Das bringt die Echten sauberen Spieler dazu, letztendlich aufzuhören.

Dieses Video soll die schönen Momente der Vergangenheit wiederspiegeln und einst daran erinnern, wieviel Spass es auf RtCW 1.0 gemacht hat und es soll auch einige großartige Spieler für immer festhalten.
Starring / Mitwirkend: ag3nt, bloxin, calibrin, diminish, frenzy, hitman, nosy, str8sick, carlton, sick, fresh, tragic, virkes, xill

Quelle: Thx to Bloxin via Shoutbox