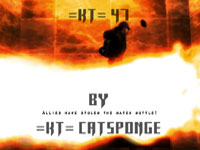 =KT=47 HD Movie -
Catsponge
has summarized funny (luck and badluck) scenes of the daily playing RtCW-Veterans. The HD film has a stunning quality and reflects the fun the people on the KT-Server having always.
This one... many PF-Kills and as a special feature, strongly modified map-textures.

=KT=47 HD Movie - Catsponge hat, von dem taglich spielenden RtCW-Verteranen, Luck und Badluck Szenen zusammengefasst. Der HD Film hat eine erstaunliche Qualität und spiegelt den Spaß wieder, den den die Spieler auf dem KT-Server immer haben.
Dieses mal... viele PF-Kills und als Spezial-Feature, extrem modifizierte Map-Texturen.
Quelle: ktclan