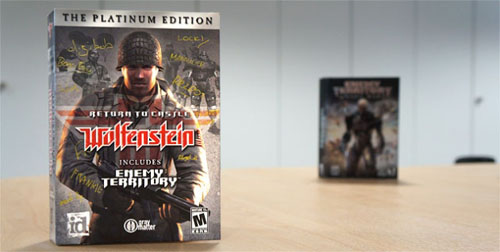 Win a Super-Rare Signed Copy of Wolfenstein Platinum Edition
- Wolfenstein: Enemy Territory was released a staggering nine years ago and we thought we'd celebrate in style by giving away a signed copy of the Return to Castle Wolfenstein Platinum Edition. What makes this copy of the game extra special (and extremely rare!) is that it was autographed by the original members of the Wolfenstein: Enemy Territory team here at Splash Damage, shortly after the game's original release.
So, how can you win it?
Just post your favourite moment from a Wolfenstein: Enemy Territory multiplayer match in the
comments of this blog
post before 23:59 British time on Tuesday (3 June).
We'll (Splash Damage) randomly pick the winner from all of the qualifying entries on Wednesday and put together a special blog containing the best submissions, as well.

Gewinne eine sehr seltene und unterschriebene Kopie von Wolfenstein Platinum Edition
- Wolfenstein: Enemy Territory wurde vor neun Jahren freigegeben und wir dachten, daß wir dieses im Stil durch Verschenken einer unterschriebenen Kopie, mit der Return to Castle Wolfenstein Platinum Edition, feiern.
Was diese Spiele-Kopie so speziell macht ist, daß sie von den Originalmitgliedern des Wolfenstein: Enemy Territory Teams bei Splash Damage signiert wurde, kurz nachdem das Spiel damals freigegeneben wurde.
So und wie kannst du es gewinnen?
Schreibe nur einen Textbeitrag in die
Kommentare des SD-Blogs
, von deinem bevorzugten bzw. schönsten Moment den du in einem Wolfenstein: Enemy Territory Multiplayer-Match hattest. Die Gewinnaktion läuft
bis Dienstag den 3 Juni, 23:59 Uhr
britischer Zeit. Wir (Splash Damage) wählen den Gewinner am Mittwoch von allen Beiträgen aus und tragen auch noch ein speziellen Blog zusammen, der die besten Beiträge enthält.