Wolfenstein 4 - Continued from Bethesda / Zenimax to work? - If the information on the website of a Swedish composers are true, Zenimax Sweden works on a new Wolfenstein part.

An entry in the portfolio of a freelance composer could be an indication that ZeniMax Sweden working on a new Wolfenstein title. (See pic)
Julian Beeston indicates on its website to be involved in a project of the company in 2013 MachineGames called "Wolfenstein." Machine Games is a relatively new studio that was founded by former Starbreeze staff and later acquired by Zenimax / Bethesda.

The domain wolfenstein.com was purchased from the original owner Activision, and now refers to Bethesda / Zenimax.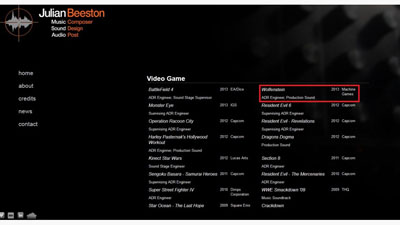 Wolfenstein 4 - Fortsetzung bei Bethesda/Zenimax in Arbeit?
- Wenn die Angaben auf der Webseite eines schwedischen Komponisten wahr sind, arbeitet Zenimax Schweden an einem neuen Wolfenstein-Teil.
Ein Eintrag im Portfolio eines freischaffenden Komponisten könnte ein Indiz dafür sein, dass ZeniMax Schweden an einem neuen Wolfenstein -Titel arbeitet. (siehe Bild)
Julian Beeston gibt auf seiner Webseite an, 2013 an einem Projekt der Firma MachineGames namens »Wolfenstein« beteiligt zu sein. MachineGames ist ein relativ junges Studio, das von ehemaligen Starbreeze-Mitarbeitern gegründet und später von Zenimax/Bethesda aufgekauft wurde.
Auch die Domain
wolfenstein.com
wurde dem ursprünglichen Besitzer Activision abgekauft und verweist jetzt auf Bethesda/Zenimax.