No multiplayer in new Wolfenstein -
MachineGames' upcoming shooter will be single-player-only experience.The upcoming Wolfenstein: The New Order from Bethesda and MachineGames
will not include a multiplayer component.
Instead, the current- and next-generation game will strictly be a single-player title, a responsibility MachineGames does not take lightly.

"It's such a huge part of video game legacy," creative director Jens Matthies told GameSpot in a new video preview. "If there's a video game museum, Wolfenstein is in the first room. It's the start of the wave that shaped the world of gaming."
"On a personal level, I played this when I was younger and it was mind-blowing," Matthies added. "I never then of course dreamed that I was going to be working with it. It's both an honor and a legacy."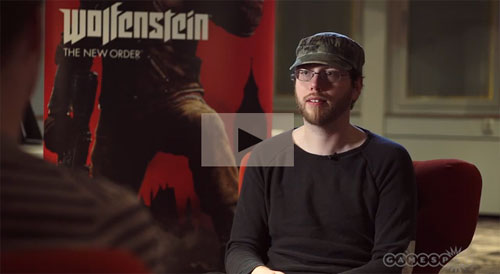 Wolfenstein:TNO ohne Multiplayer-Modus
- Die Kollegen von Gamespot haben die Schweden vor Ort besucht und wissen u.a. ein paar Details zur Story zu berichten, welche ja im Jahr 1960 angesiedelt ist und darauf fußt, dass die Nazis den Zweiten Weltkrieg gewonnen und mittlerweile wohl selbst den Mond besiedelt haben. B.J. Blaskowizc sei 20 Jahre in einer Irrenanstalt festgehalten worden, heißt es da. Für den Haudegen sei die Welt genauso neu und unvertraut wie für den Spieler.

Neben den üblichen Gegnern werde es in der Spielwelt auch freundliche NPCs geben, mit denen man interagieren kann und so mehr Infos und vielleicht auch ein paar Geheimtipps erhält. Dabei werde man allerlei Gegenden auf der ganzen Welt einen Besuch abstatten, z.B. die Wälder Polens bereisen oder im Berliner Untergrund tauchen. Wir tippen mal an dieser Stelle, dass das Finale oder zumindest ein Abschnitt des Spiels auf dem Mond stattfinden wird.

Dual-wielding - also das Nutzen von zwei Knarren gleichzeitig - soll bei allen Waffen, selbst Raketenwerfern, möglich sein. Das neue Setting habe einem noch mehr Freiheiten hinsichtlich der Gegner, Roboter und Waffen verschafft, so die Entwickler mit Verweis auf das "Retro-Sci-fi"-Design.
Das Studio, dessen Gründer bei Starbreeze für Spiele wie Chronicles of Riddick und The Darkness verantwortliche waren, merkte außerdem an: Wolfenstein: The New Order ist ein reines Solo-Erlebnis - einen Mehrspielerpart gebe es nicht.