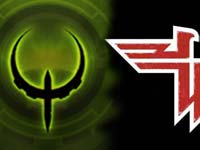 Quake & Wolfenstein - Derzeit keine neuen Spiele geplant - Keine guten Nachrichten für Quake- und Wolfenstein-Fans: John Carmack zufolge plant id Software derzeit keine Fortsetzungen der Shooter-Serien.
id Software plant derzeit keine neuen Titel für die Quake- oder Wolfenstein-Serie. Das verriet der Technical Director und id-Mitbegründer John Carmack auf der abgelaufenen Hausmesse QuakeCon. Die Frage nach einem Quake 5 oder einem anderen Quake-Projekt verneinte Carmack ebenso wie ein neues Wolfenstein-Spiel. Grund für das derzeitige Desinteresse sei unter anderem der finanzielle Misserfolg von Quake Live.

Quake & Wolfenstein -- no new games at present planned - Bad news for Quake and Wolfenstein-Fans: According to John Carmack, at present, id Software is not planning any continuations of the Shooter series.

id Software is not planning any new titles for the Quake or Wolfenstein series. This betrayed to the Technical Director and id co-founder John Carmack on the inhouse fair offgone QuakeCon. The question about a new Quake 5 or a Wolfenstein game denied Carmack. Among other things reason for the present lack of interest is the financial failure of Quake Live.
Quelle: gamestar